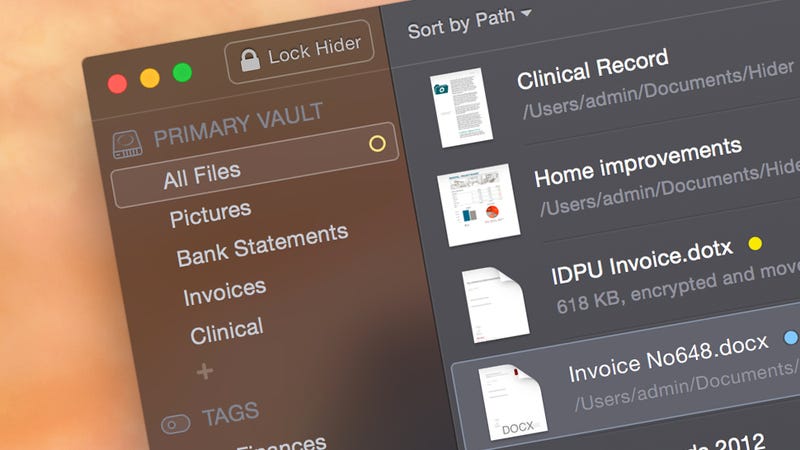 If you've got something you want to hide away, then you've got plenty of options on Android, iOS, Windows, and macOS—options that we'll run through here. Even if the kids or a stranger should get access to your devices somehow, these files will stay hidden from view and locked away.
Before we get started, though, we should note that while the solutions below will provide a measure of privacy from a casual user who nabs your device, they aren't all necessarily going to protect your files from a hacker or someone else with expertise.
Android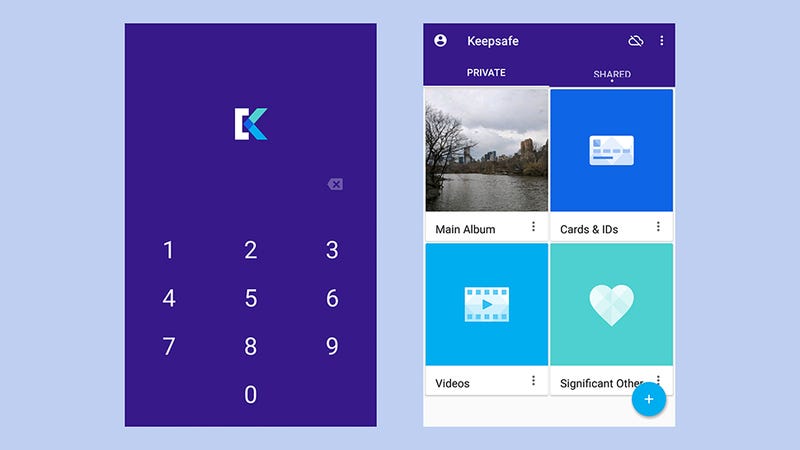 When it comes to files on mobile devices, those files are usually photos or videos—your other files are likely to be stored in the cloud, not on your device. To hide an image in Google Photos for Android, long-press on it then tap the menu button (three vertical dots) and pick Archive. The photo can still be dug out of the archive, but it does give your sensitive photos some level of protection from the casual browser.
If you're on a Samsung phone, the default gallery app does a bit of a better job at keeping any photos or videos you want private kept safe. Select the photos and videos you want to hide, tap the menu button (three vertical dots), then pick Move to Secure Folder—enter the folder PIN, and the content gets moved over. No one else can get into that Secure Folder without the PIN.
For something a bit more comprehensive, try Keepsafe: It creates a PIN-protected digital vault on your phone for those photos and videos that you really don't want other people coming across. Getting files into the vault is easy, or you can take your photos and videos from inside Keepsafe instead.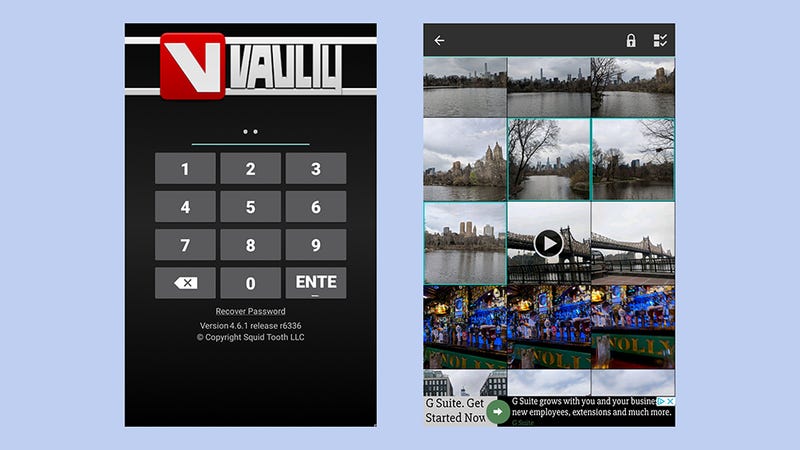 Also worthy of a mention is Vaulty, which works in a similar way but makes the process of getting photos and videos in and out of your digital locker even easier. Remember that if you're using Google Photos as your gallery, you'll still need to delete the originals, otherwise they'll just get shown from the cloud (which the likes of Keepsafe and Vaulty don't touch).
File Hide Expert covers any type of file and is very straightforward to use—it simply gives you access to the file and folder structure on your phone, lets you select the content you want hidden, and then hides it. The interface is rather rudimentary, but if you want something basic that works for any type of file, it's a good option.
There is actually another trick you can use on Android using a file manager like ES File Explorer: Put an empty text file called .nomedia inside any folder with images you don't want to show up in the default gallery app (though they'll still appear in the file manager). In fact Android will ignore any folder that starts with a period. It's a rather fiddly solution, but it might suit some of you.
iOS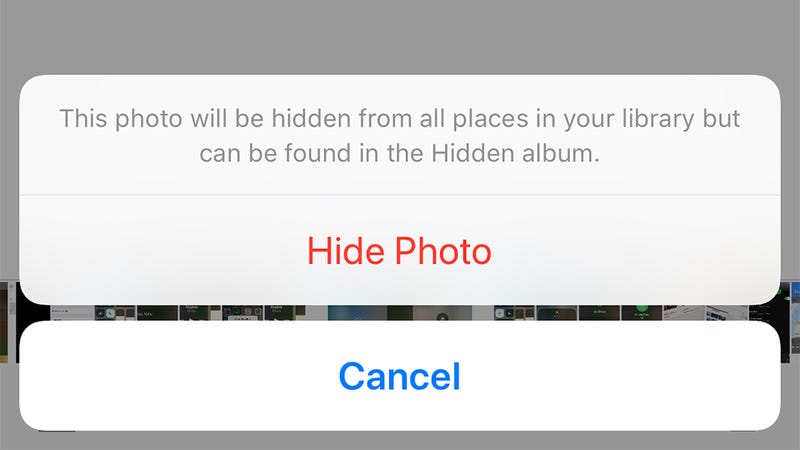 The iOS file system is even more locked down than Android of course, so you're unlikely to have files floating around that you don't want people to see that aren't photos or videos. There is the new Files app, that shows your iCloud Drive files (if you've got any), but there are no options for hiding files here.
You can however hide photos and videos from the iOS Photos app to keep them away from prying eyes that aren't yours: Open the file in question, tap the Share button (bottom left), then choose Hide. That removes the photo or video from Moments, Years, and Collections, though someone could still browse to the Hidden album in the Albums section of the app, so it's not all that secure.
We've already spoken about hiding photos and videos in Google Photos, and the process is the same for Google Photos for iOS. Tap and hold on one or more files, tap the menu button (three horizontal dots), and choose Archive. This hides the pictures or clips from the front screen of the app, though they can still be found from the Archive entry in the menu (and still show up in albums and search).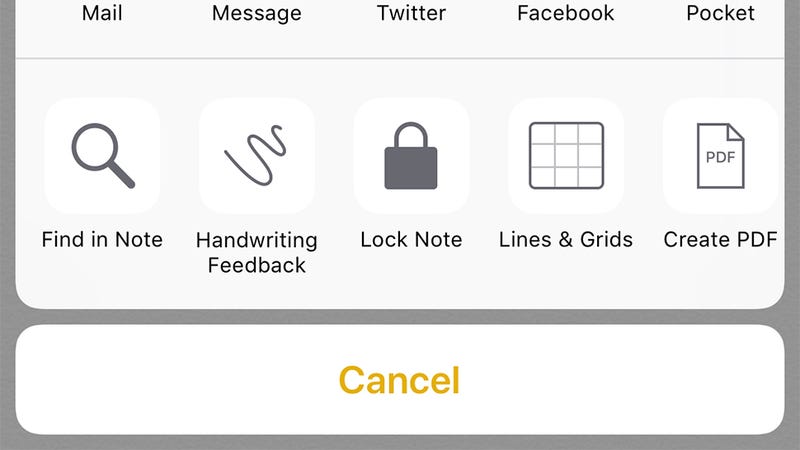 One other option is to put photos inside Notes (though this doesn't work for videos). First you need to set up a password in the Notes section of the iOS Settings app, then you can open any note, tap the Share button (top right) and choose Lock Note. You'll also need to remove the photo you've added from the main Photos app.
If you need to hide files from specific apps, your best bet is looking inside that app to see what options are available. Dropbox, for example, can be passcode protected from its internal settings screen: Tap Account then the cog icon, and choose Passcode Lock to prevent anyone from getting into your files.
We've come across a number of handy third-party options too, including Private Photos Calculator and Private Photo Vault, which protect your sensitive snaps and clips with a PIN code. You can capture photos and videos inside the apps, or import them from the Camera Roll, but if you take the latter option you also need to them delete the pictures from the iOS Photos app.
Windows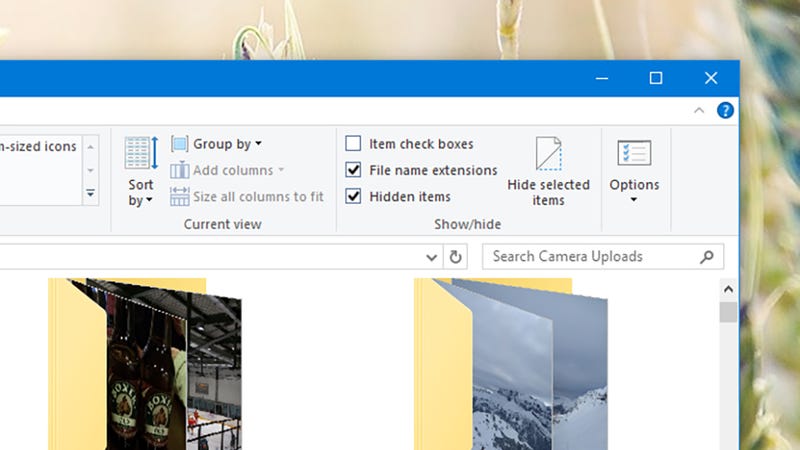 Windows has a file hiding tool built right into it, as you might already know: Right-click on any file or folder, choose Properties, then tick the box marked Hidden and click OK. That's it—your chosen file or folder is no longer visible in File Explorer.
Unless the person who's gained access to your computer is clever enough to display hidden files, that is. The setting can be toggled right from the View tab of the ribbon menu—the Hidden items entry on the right. You can set files and folders to be hidden from this menu too, via the Hide selected items button.
If you think that's enough protection to foil any would-be lurkers—that they won't know Windows well enough to display hidden files—then you're already all set. On the other hand, if you want to take your hiding file techniques to the next level, you'll need some help from a third-party app, and there are quite a few to pick from.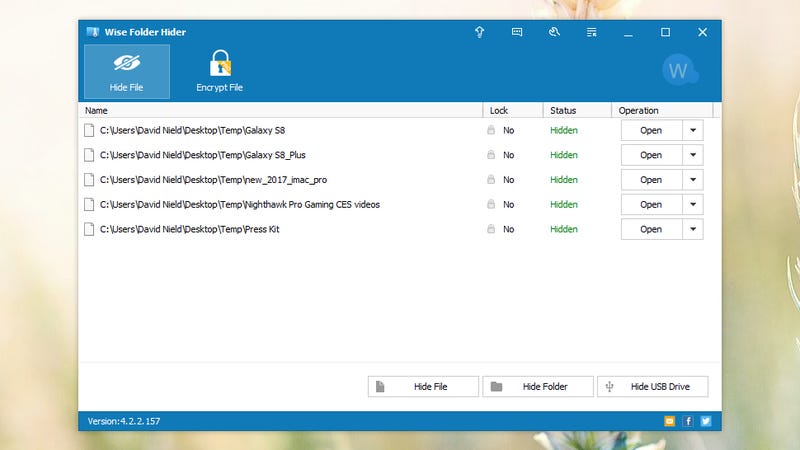 Of the ones we've tested, Wise Folder Hider Free impressed us the most with its ease-of-use and feature set. You can just drag and drop folders on top of the program interface, and they disappear from File Explorer as if by magic. A password is then required to get into the application. If you want encryption as well, you can upgrade to the Pro version for $19.95.
We were also impressed by My Lockbox, which is also available in free and Pro versions (the latter lets you protect an unlimited number of folders). Again, one password protects access to the program, and it's perfect for just hiding a single folder away rather than a bunch of files or folders.
Another option is to wrap up all the files you want to hide away in a compressed archive, and then put a password on that archive that blocks unauthorized access. 7-Zip is one free tool that can do this for you, though someone else could still see and delete the archive unless you added one of the hiding options we mentioned above.
macOS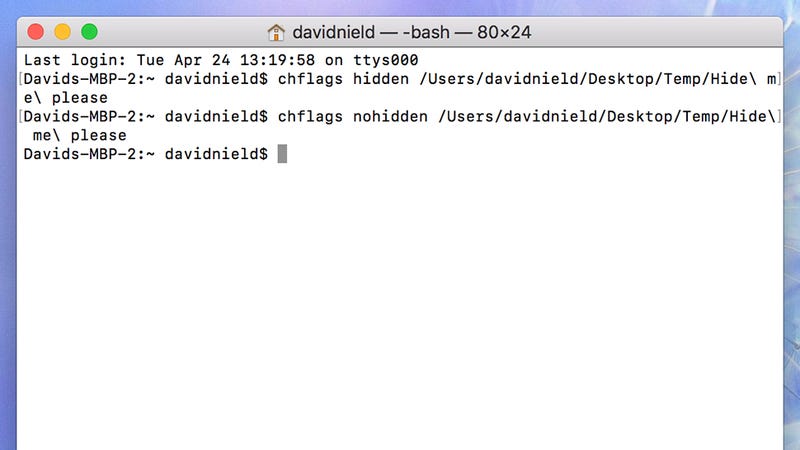 When it comes to Mac computers, the cleanest and simplest native option is to use the Terminal app, which you can launch from Spotlight (Cmd+Space). Type "chflags hidden file-or-folder-path" then Enter to hide something, and "chflags nohidden file-or-folder-path" and Enter to bring it back. If you like you can type out the command then drag and drop a file or folder into the Terminal window before hitting Enter (just remember the path so you can bring it back).
Various third-party options will take care of the task for you as well. Hide Folders does exactly what it says on the tin, and you simply drag and drop in files and folders from Finder and then click the Hide button. Anyone who launches Hide Folders can see what you've hidden though, so you might want to add password protection, which is a $20 upgrade for the Pro version.
Secret Folder does almost exactly the same job, though the interface is a little cleaner and easier on the eyes. Again, you can simply drag and drop folders into the program window to hide them, then toggle the Invisible/Visible switch accordingly. The application costs $20, but a free trial is available.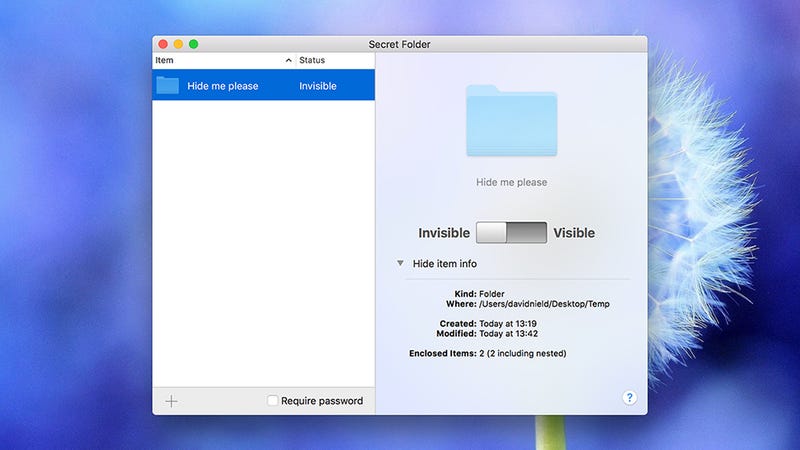 Hider is a more comprehensive solution that's again is priced at $20 and again lets you give the software a trial run for free. In addition to hiding selected files and folders, your data is also encrypted, and you've got some useful extras thrown in as well (like support for external hard drives). Files can be shown or hidden using simple toggle switches, with everything protected by a master password.
If it's particular apps that you want to block, then Cisdem AppCrypt might fit the bill for you. You can specify apps (or websites) to password protect, so anyone who gains access to your Mac won't be able to run programs containing information you don't want seen. It costs $20 a year, with a free trial available.
Going back to photos, if all you want to do is hide images and video clips, you can use the same options (with the same caveats) as we talked about for iOS. From the Photos app, right-click on an image and choose Hide Photo. This removes it from the main photo stream, but considering the Hidden album is only a click away on the left-hand navigation pane, it's not the most effective solution.